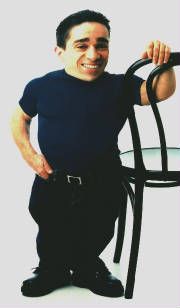 David Steinberg as Widget.

Most notably David can be seen as Meegosh in Ron Howard's Willow. Other films include: Wigstock and Love and Sex, and the soon to be released is his film, The Hebrew Hammer starring Andy Dick and Mario Van Peeples.

Some television appearances include The Equalizer, The Days and Nights of Molly Dodd, All My Children, and The City and as The Leprechaun on the Nickelodeon series called, Are You Afraid of the Dark. The episode was entitled Jake and The Leprechaun.

Theatrically, David has appeared for several seasons in The Christmas Spectacular at Radio City Music Hall, and has also appeared at the NY Shakespeare Festival, Baltimore Center Stage, The Guthrie Theater in Minneapolis, and the Grammy nominated National Tour of The Wizard of Oz.

David has just finished principle photography in Character Assassins a new independent film.