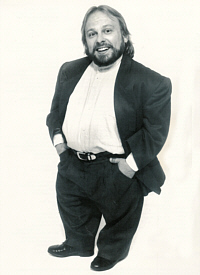 Arturo Gill as One-Fifth.

Arturo Gil was born in New Orleans, Louisiana but soon after birth, he and his family moved to San Juan, Puerto Rico, where he lived for 13 years becoming fluent in Spanish and English. He returned to New Orleans as a teenager and on his 18th birthday Arturo began to pursue a career as a Disc Jockey. In the meantime he secured a job in the world famous French Quater at a nightclub spinning Disco, Jazz, R&B and Rock N Roll. He later joined WWOZ FM as a staff volunteer, where he trained new volunteers and produced Jazz and R&B radio shows.

With the encouragement of his older brother, Arturo moved to southern California, in hopes to break into FM Radio as a Disc Jockey. Instead he found a position as computer operator at a circuit board manufacturer running reports, programming, user interface and computer troubleshooting. While he was continuing his computer work, friends encouraged him to pursue acting. Taking their suggestion, Arturo began his Film/TV career by working on several student, low-budget and non-union films. In 1985, Arturo, while working on Mel Brooks' Spaceballs, received his Screen Actors Guild card. The acting bug had bitten him hard! Arturo was on his way.

Since l985, Arturo has been featured in films like; Monkeybone, Spaceballs, The Fantasticks, Dirty Work, The Munsters' Scary Little Christmas, Silent Tongue and Bill and Ted's Bogus Journey. TV Shows like; Charmed, Ally McBeal, Just Shoot Me, Honey I Shrunk the Kids-the TV show, The Parkers, Unhappily Ever After and as a regular on Comedy Central's, The Man Show.

Arturo, who stands 3' 6", encourages "Hollywood" to use actors with dwarfism, disabilities and ethnic backgrounds in films and TV, to create a more realistic reflection of our world.